To receive automatic updates from 99Plugs for the themes and plugins you've purchased, you will need to install our easy-to-use 99Plugs Update Manager and enter your item's update keys. Using our 99Plugs Update Manager, you will be able to activate and manage all your 99Plugs update keys in one place.
Your update keys can be found by logging into your account and going to Manage Update Keys.
You can download the 99Plugs Update Manager plugin from the Downloads tab in your account.
To install the plugin, first thing you need to do is log into your WordPress Dashboard and go to Plugins » Add New page inside your WordPress admin area.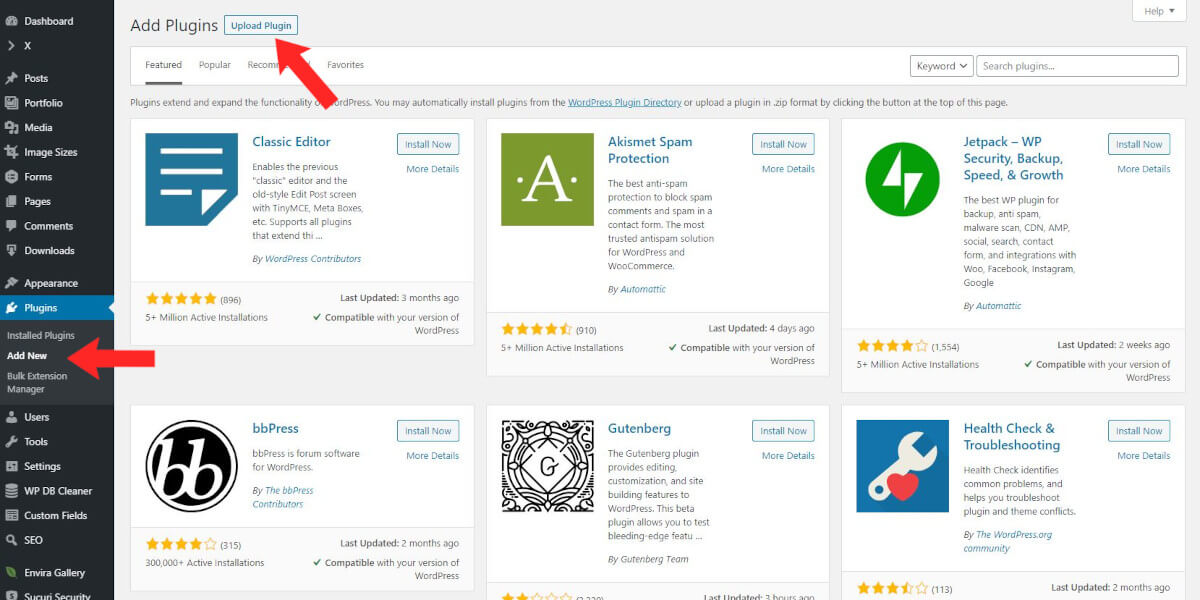 You will see a screen like the one in the screenshot above. Now, click Upload Plugin at the top of the screen. This will reveal the plugin upload form. Here you need to click on the Choose File button and select the 99Plugs Update Manager plugin file you downloaded earlier to your computer.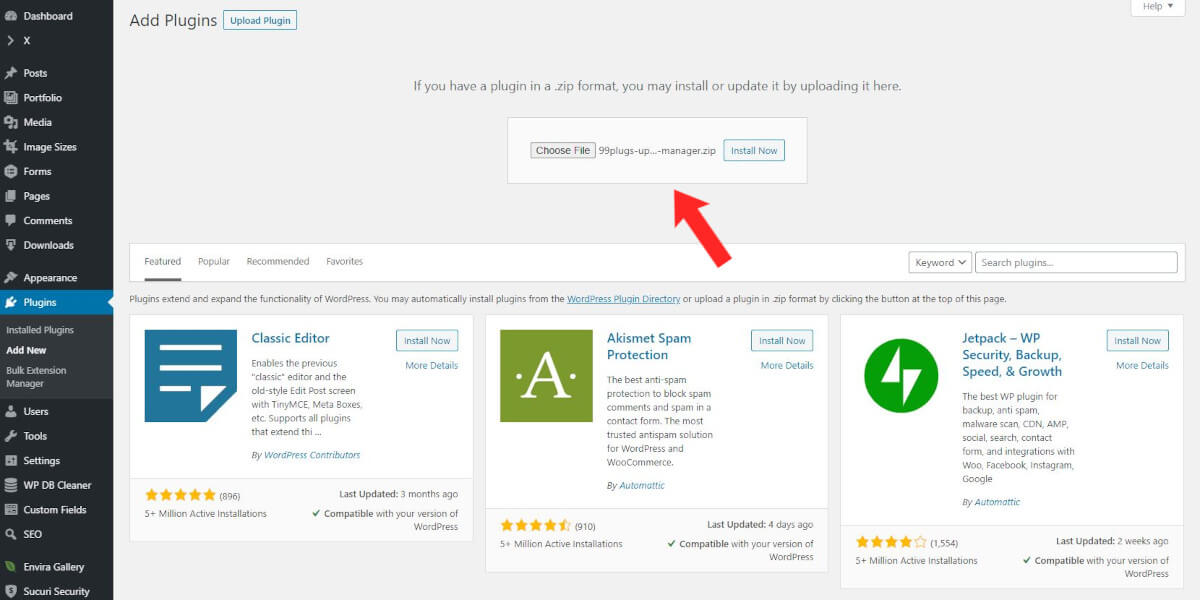 After you have selected the file, click on the Install Now button.
WordPress will now upload the plugin file from your computer and install it for you. You will see a success message like this after the installation is complete.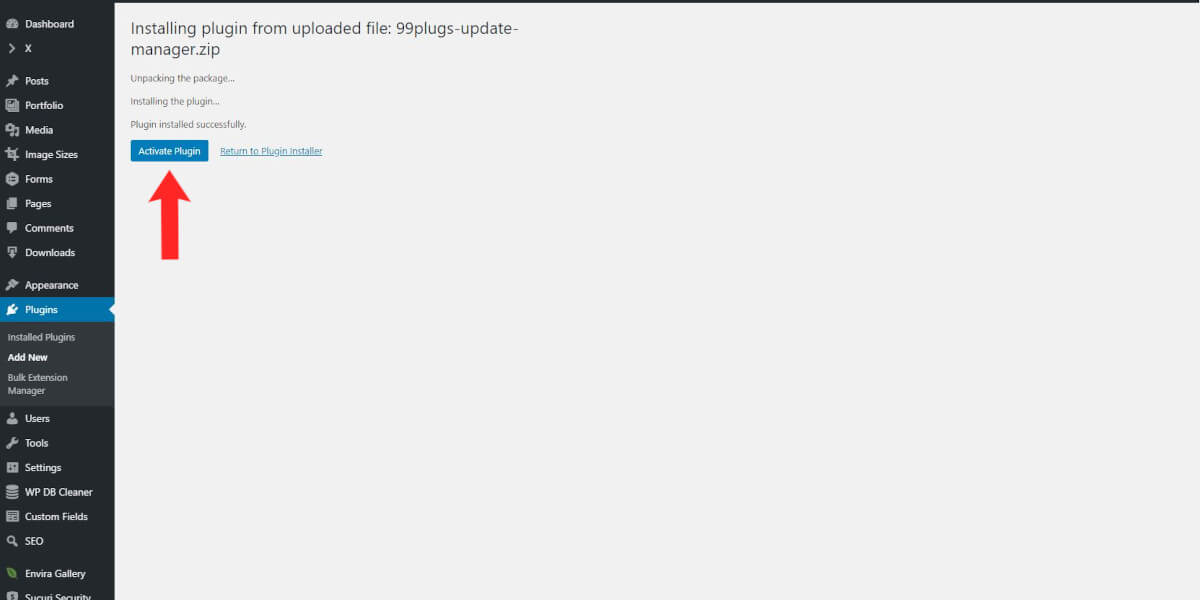 Now click Activate Plugin to activate the 99Plugs Update Manager. This will enable the plugin and create a new menu item under Tools » 99Plugs like you see in the screenshot below.

Simply click on the 99Plugs menu link and you will be taken to the 99Plugs Update Manager interface.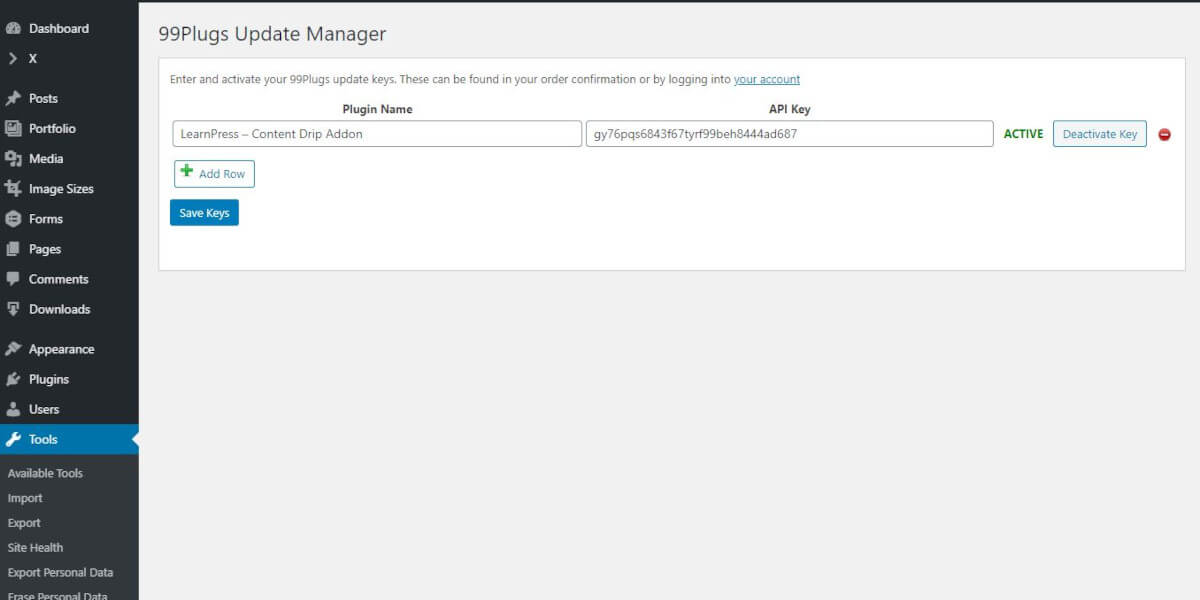 Here is where you will activate and manage the 99Plugs update keys that were created for you instantly upon purchase. Please be sure to enter the item name and update key exactly as it appears in your 99Plugs Dashboard under Manage Update Keys.
For VIP Access Passes, you do not need an update key for each individual plugin or theme. You only need to enter the name and update key for your VIP Access Pass. Your VIP Access Pass update key applies to every plugin and theme on 99Plugs. One entry in the 99Plugs Update Manager and your good to go.
After successfully activating your update keys, you'll get hassle-free updates for your premium plugins and themes right in your WordPress Dashboard, just like any other WordPress updates.

It doesn't get any easier than that!
IMPORTANT NOTES
All update keys get entered into the 99Plugs Update Manager, not in the themes or plugins themselves. License keys from the plugin author are not related to the update keys from us. Everything works through our system.
You can simply ignore plugin or theme specific license key requests. You do not need license keys to install or use them on your websites, regardless of how many websites you have. A license key is only required if you want to receive support and updates directly from the author of the plugin or theme. They do not restrict the functionality of the plugin or theme itself and will work perfectly fine without entering a license key. For more information, please see: My plugin or theme is not activating
Don't forget to add the 99Plugs Update Manager (and update key) itself if you wish to receive updates for the updater plugin as well.