To ensure that you are always using the most up-to-date versions of the themes and plugins you have purchased from 99Plugs, it is important to install our 99Plugs Update Manager. The 99Plugs Update Manager is a simple and user-friendly tool that allows you to easily manage and activate all of your update keys in one central location.
To get started, you will need to log into your account.
Once logged in, navigate to the Manage Update Keys section. Here, you will find all of your update keys for the themes and plugins you have purchased from 99Plugs.
Next, you will need to download the 99Plugs Update Manager plugin. This can be found in the Downloads tab of your account. Once the plugin has been downloaded, you can proceed to install it on your WordPress site.
To do this, log into your WordPress dashboard and navigate to the Plugins » Add New page inside your WordPress admin area.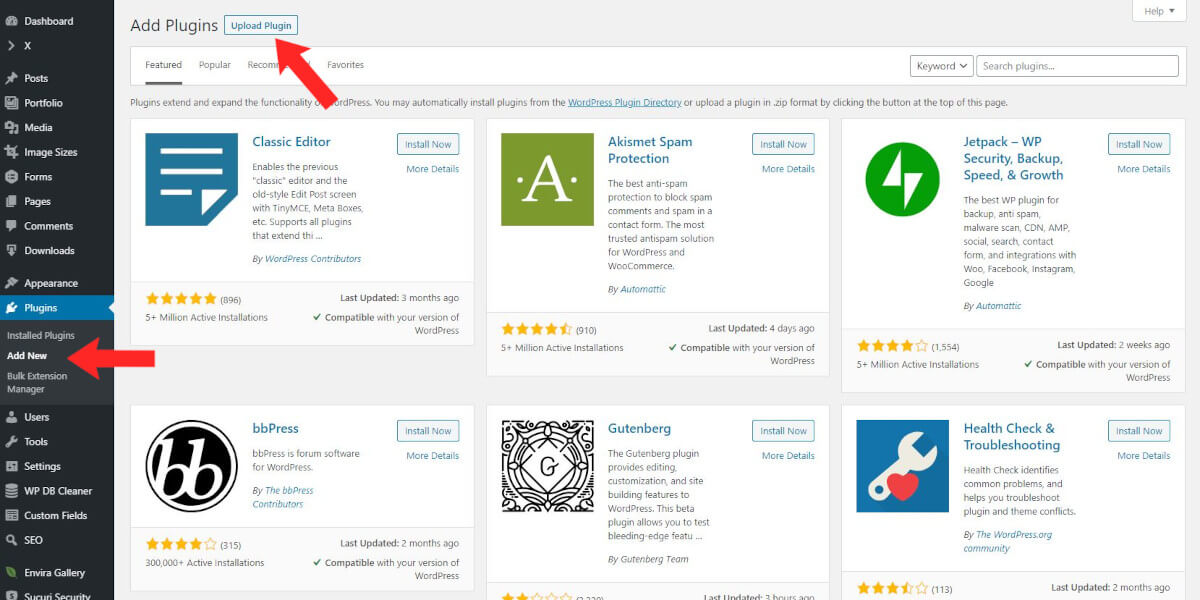 You will see a screen like the one in the screenshot above. Now, click Upload Plugin at the top of the screen. This will reveal the plugin upload form like you see in the screenshot below.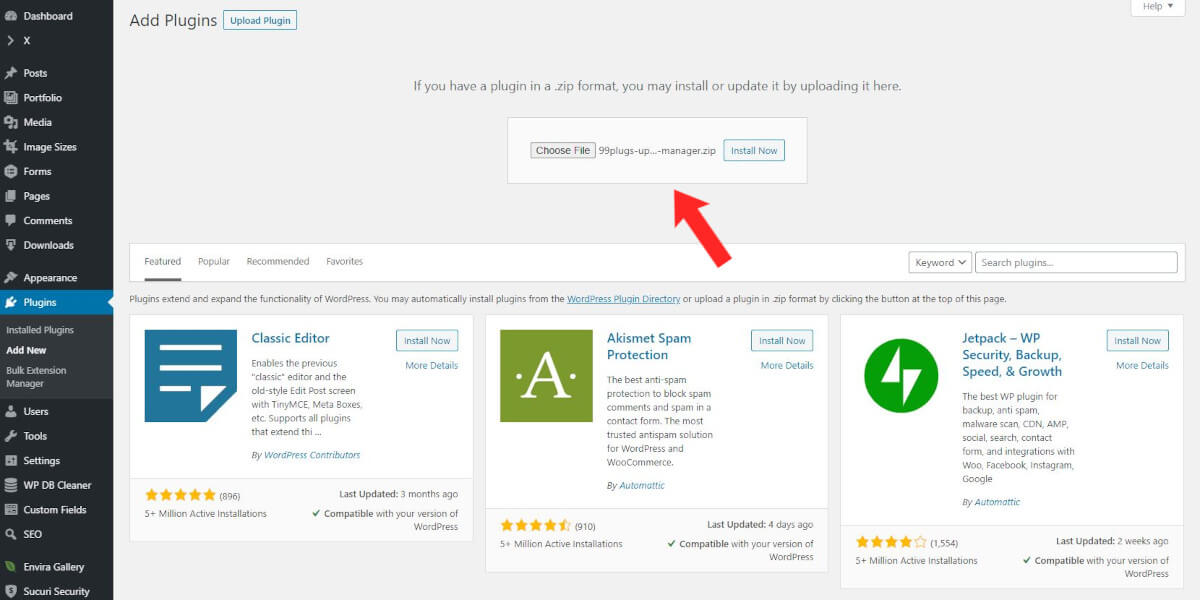 Here, you can click the Choose File button and select the 99Plugs Update Manager plugin file you just downloaded. After you have selected the file, click on the Install Now button.
WordPress will now upload the plugin file from your computer and install it for you. You will see a success message like this after the installation is complete.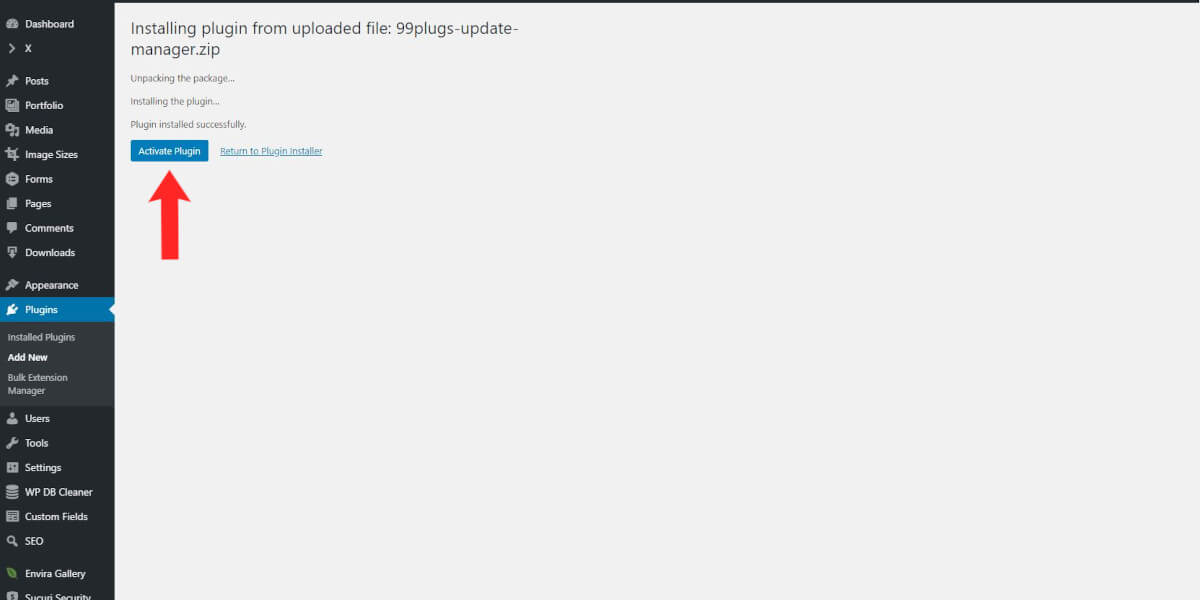 Now click Activate Plugin to activate the 99Plugs Update Manager. This will enable the plugin and create a new menu item under Tools » 99Plugs like you see in the screenshot below.

Simply click on the 99Plugs menu link and you will be taken to the 99Plugs Update Manager interface.

Here, you can enter your update keys into the 99Plugs Update Manager and start receiving automatic updates for your 99Plugs purchases. Please be sure the item name and update key are entered exactly as they appear in your 99Plugs Dashboard under the Manage Update Keys section.

After successfully activating your update keys, the 99Plugs Update Manager will begin checking for updates and you'll start getting updates for your premium plugins and themes delivered right in your WordPress Dashboard, just like any other WordPress updates.
It doesn't get any easier than that!
VIP ACCESS PASSES
If you have a VIP Access Pass for 99Plugs, you do not need to enter an update key for each individual plugin or theme. Instead, you only need to enter the name and update key for your VIP Access Pass and you're good to go. Your VIP Access Pass update key applies to every plugin and theme on 99Plugs.
Don't miss out on the exclusive benefits of a VIP Access Pass from 99Plugs! Get a VIP Access Pass now!

Plugin and Theme Tables: Enhanced Overview of Your Installed Plugins
No more digging through your WordPress dashboard to find the items you've purchased from 99Plugs! With the new plugin and theme tables, you can easily view a table of all your installed plugins and themes, with a small 99Plugs logo icon placed next to the ones purchased from our website, making it a breeze to manage your premium plugins themes and ensure you're always using the latest version.

Backup Your Plugins and Themes Before Updating
You can now automatically back up your plugins and themes before updating them. This added layer of protection not only ensures that you won't lose any customizations or important data during an update but also provides a safety net in case there are any issues with the updated version. Should you encounter any problems, you can quickly revert to the previous version with just a few clicks, allowing you to maintain your site's functionality until the issue is resolved. You can find the backup settings in the 99Plugs Update Manager Settings tab.
Rollback Feature: Restore Previous Versions of Plugins and Themes
Ever updated a plugin or theme only to find that it caused an issue with your site? Worry no more! The new rollback feature allows you to easily restore a previously backed-up version of your plugin or theme, minimizing downtime and keeping your site running smoothly until the issue is resolved.

Fallback Update System: Taking Updates to the Next Level
In rare cases, some plugins and themes may override the normal WordPress update process, preventing them from being updated through the standard method. To address this, we've developed a fallback update system that allows you to bypass this and update your plugins and themes directly from within the 99Plugs Update Manager.

IMPORTANT NOTES
All update keys get entered into the 99Plugs Update Manager, not within the individual plugins or themes themselves. The update keys from 99Plugs are separate from any license keys that may be provided by the plugin author, and are used solely for updating the items you've purchased from 99Plugs.
You can simply ignore plugin or theme specific license key requests. You do not need license keys to install or use them on your websites, regardless of how many websites you have. A license key is only required if you want to receive support and updates directly from the author of the plugin or theme. These license keys do not restrict the functionality of the plugin or theme, and they will work perfectly fine without entering a license key. For more information, please see: My plugin or theme is not activating
It's important to note that the 99Plugs Update Manager itself is also a plugin, and in order to receive updates for the updater plugin, you will need to enter the update key for the 99Plugs Update Manager as well (unless you have a VIP Access Pass).